OnDataSuite is aware of recent emails being sent by the Office of Civil Rights concerning validating certain CRDC sections in the OCR CRDC submission tool by the submission due date of July 29th.
In order to support LEAs with this process, we have opened back up the CRDC LEA and School Forms in our Accountability>Federal: Accountability Report Center>2021 CRDC Report Center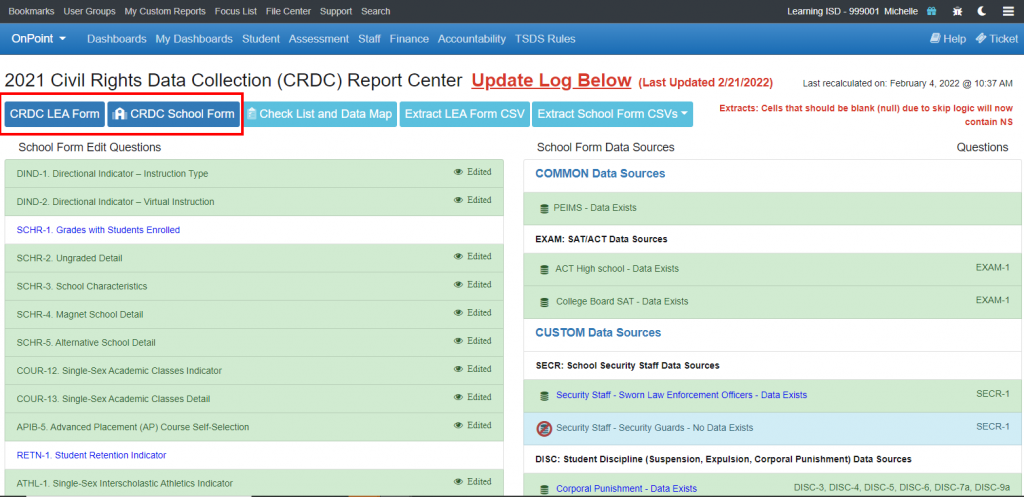 We will also continue to add to this article any particular questions that we have seen being consistently reviewed and what you can do to help with your review process.
Retentions
RETN_1912S_b: ENRL-3a and RETN-2

This issue is concerning IDEA (special education) students
After researching several LEAs, please review your RETN-GR12 IDEA column
If you have higher numbers compared to the rest of the grade levels, it is probably due to senior special education students who returned after graduating.

Our process is to look for the summer grade level last reported and the subsequent fall grade level, and if they are the same, we consider the student retained.
Click on the counts to see the detailed list of students being included. Determine if all students are considered retainees and make appropriate entries in the OCR CRDC submission tool.
The OCR School Form documentation does not address this senior special education process specifically, so it is up to interpretation if they should or should not be in the counts.
We will evaluate with the next CRDC submission if we should exclude seniors returning who have already graduated in the past from this question.