Print Student Profile/EOC/STAAR 3-8/TELPAS cards.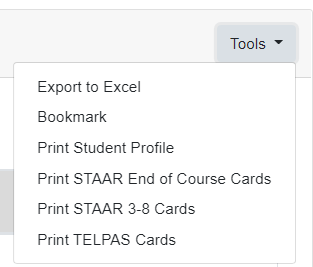 Print Student Profile Cards
Will create a PDF student profile card based on the Student Profile Overview screen for every student in the displayed list.
Caution! Processing time for this action, expecially for larger data sets, will take some time. It is recommended that you do this when you have the time to leave the computer for a bit to let the job finish.