Access Fields
When the LDAP method is chosen as the user authentication method, the User Administration section in the Administrator Tools navigation box will have a link to "LDAP Access Fields".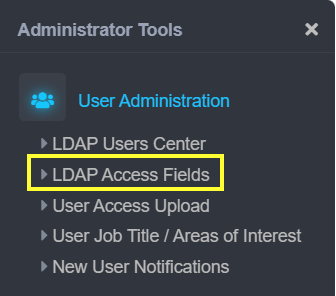 Querying LDAP Server for Global LDAP Groups
After selecting an access field to edit, onPoint will query your LDAP server for global LDAP groups and display them within boxes on the screen. Click on any of the available LDAP group boxes to start the process.
The LDAP Access Fields page will list all the editable access fields available within OnPoint. Upon clicking any of the buttons within this page, you will see access settings for both users and for LDAP Groups