The one stop shop for all TSDS Rules reporting.
NOTE: Training video available below!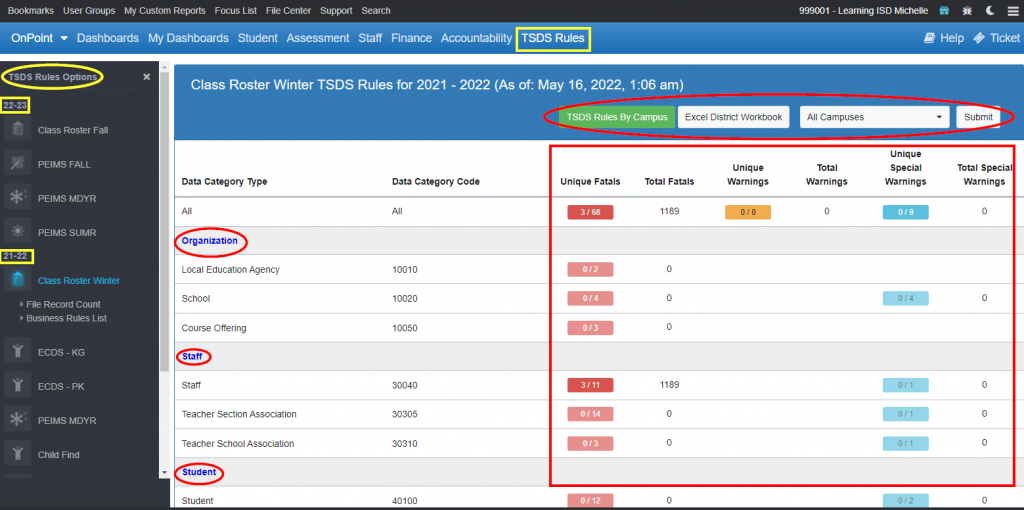 Locate TSDS Rules – Top blue menu bar

Note: If user does not have access to see the SSN, the TSDS Rules menu bar will be grayed out.

TSDS Rules Options navigation box on left side contains TSDS Submissions/Collections

As current year files are loaded, the list will show two years, the current year and prior year, until all submissions/collections have replaced the prior year

TSDS Rules By Campus

Displays list of campuses with unique and total rules counts for fatals, warnings, and special warnings. Drill down and Tools>Export to Excel available.

Excel District Workbook

Excel file of all rules with one summary tab and every business rule with details listed on a separate tab

Campus Filter (Default All Campuses-District View)

Click Submit if selecting a campus
Note: Campus level users must have access to the SSN and may only access business rules depending on the Reports authorization in the Administrator Access List (Student Aggregate Totals, Staff Aggregate Totals, and/or Finance)

Fatals, Warnings, and Special Warnings

Unique = Count of each unique rule in that category
Total = Count of all rules in that category
Click on button to see business rules triggered in a summary format (Business Rules Summary)

Business Rule on left side = Unique count
Edit Count on right side = Total count

Drill down on a specific business rule to see who/what is triggering it (Rule Detail)
Excel All Details button to export to Excel the details of each business rule

Note: This option is not available if the total edit count of a Data Category Type is 20,000+ . In this case, the edits must be downloaded per business rule.
Data Category Type

Click on a particular Data Category Type link (i.e. Organization, Finance, Staff, etc.) to see all business rules in a summary format with appropriate color coding for fatals, warnings, and special warnings

Export to Excel capabilities

All Business Rules Excel District Workbook
Specific Business Rules Summary Tools>Export list to Excel
Specific Business Rules Summary Details Excel All Details
Individual Business Rules Tools>Export list to Excel
---
TSDS Rules Video