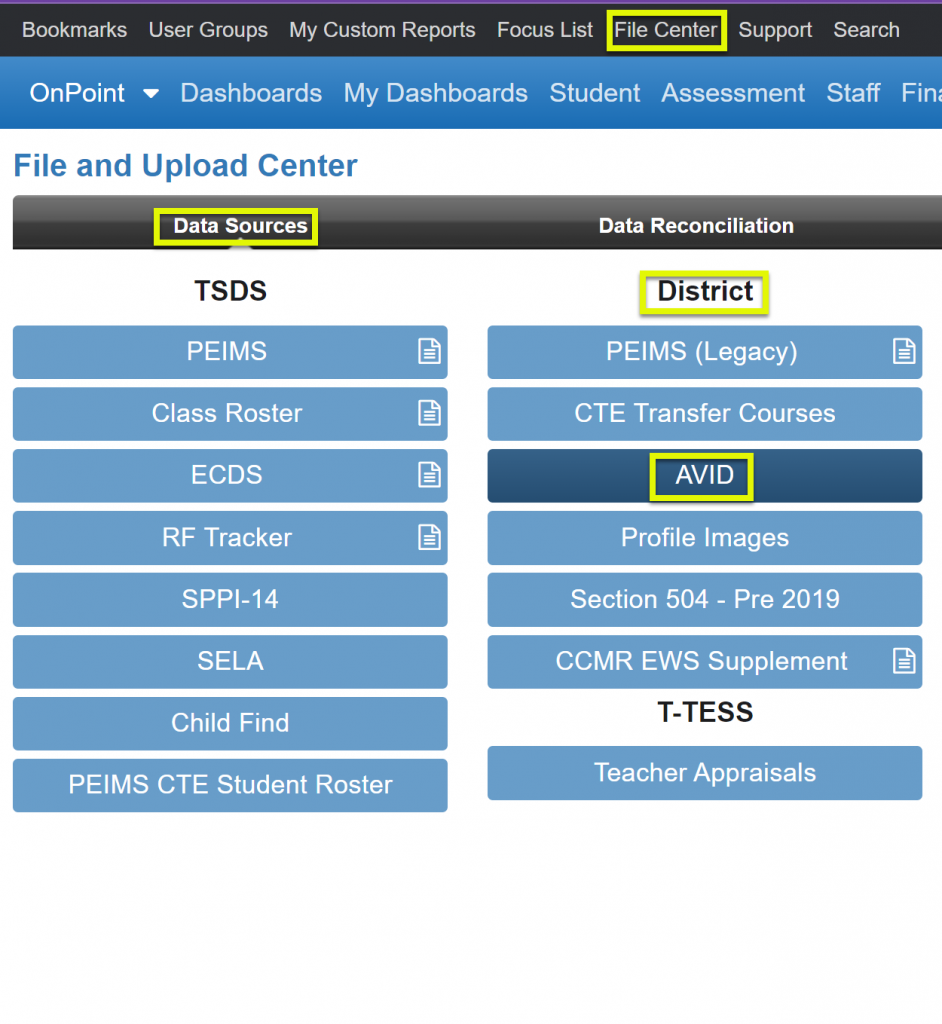 The AVID Upload found on the File Center under District is used in conjunction with the AVID reports found under the Student>Student Custom Reports>AVID folder. This upload/report is for the Advancement Via Individual Determination program. If your district does not offer this at either the middle school or elementary level, this upload will not be utilized.
AVID Middle School – Elective and Excel
The AVID Middle School upload is used in the Student Custom Reports>AVID>AVID Secondary Site Data Collection Aid report.
Since course completion records are not reported for middle school students, it is necessary for the LEA to identify the 6-8 grade AVID elective and excel students in separate files for reporting purposes.
Note: There is no high school AVID upload since we can utilize the service IDs to identify grades 9-12 in AVID (N1290001- Advancement Via Individual Determination I; N1290002 – Advancement Via Individual Determination II; N1290030 – Advancement Via Individual Determination III; N1290033 – Advancement Via Individual Determination IV).
Files should contain all 6-8 grade AVID middle school students – one for elective, and if offered, one for excel for both the year of the report and the prior year due to reporting specifications which include the prior year data. If you have loaded a prior year file(s) already, you will only have to upload a current year AVID middle school file(s).
AVID Elementary
The AVID Elementary upload is used in the Student Custom Reports>AVID>AVID Elementary Site Data Collection Aid report.
Since there is no identifying data for AVID reported to PEIMS for elementary students, it is necessary to upload the AVID elementary students.
AVID Upload Process
File should be in CSV comma delimited format
File should not contain a header
File cannot be compressed or zipped
File name must not contain spaces
When naming a file, only use letters, numbers, dashes or underscores
File is completely replaced every time upload occurs for a specific year
File Layout:
CSV file consists of a single column

Student ID containing one of the following: TX Unique ID, or State ID (SSN), or Local ID
Example: 1234567890
Click on the green upload button to upload the CSV file (must have administrative rights).

Browse to the CSV file containing the AVID students.
Click Open after selecting the file.

File is displayed in the loading area

Select the appropriate

Year
Submission – Elementary or Middle School
Type – Elective or Excel (Elementary automatically selects Elective)

Click the green 'Start Upload' button

OR Click the black X to delete file(s)
OR 'Cancel Upload' to completely stop the upload process

When data load is complete, scroll down to view the file.

Click on the Info link, far right-hand side, to see

Event Viewer with processing information
Edit file name to change the name of the file loaded

Note: While a file is loading, you may continue to work throughout the rest of the system, including file uploads for other areas.