TEA will provide an annual accelerated tester file through their TEAL system.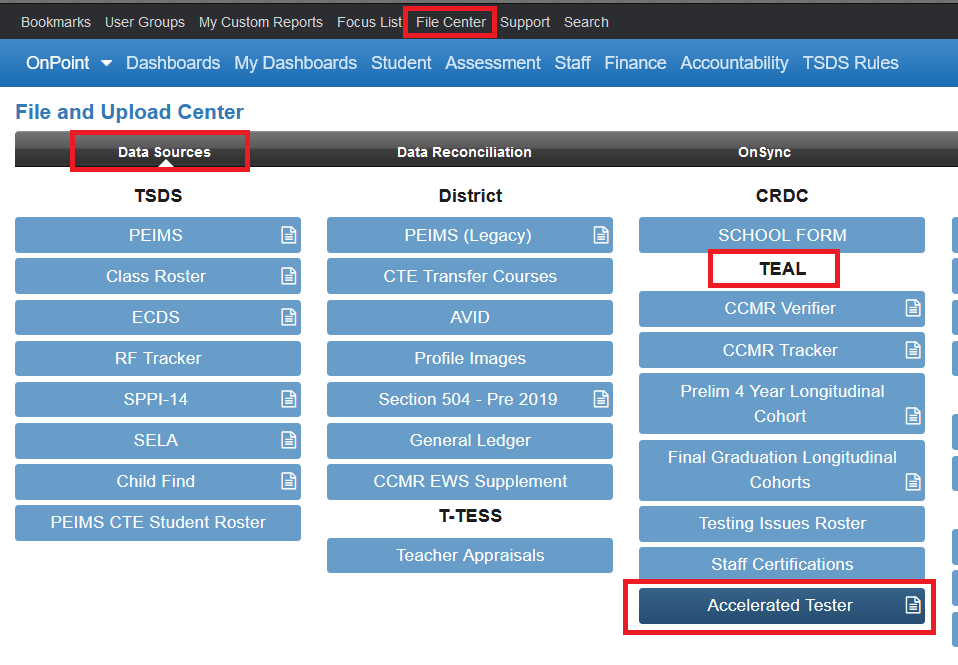 When loading the file choose the correct upload year, there will be one file per upload year. The file is wipe and replace.

The current 2021-22 Accelerated Tester file was released in an Comma Separated Value (.CSV) format with header values in the order listed below. Districts loading this file must make sure that their column header values follow the exact format shown below prior to loading.
District Number
Campus Number
Campus Name
Student Name
Student ID
TSDS Unique ID
Local ID
Date of Birth
Race/Ethnicity
Econ_Disadv
Special_Ed
ACT or SAT Math
ACT or SAT Reading
ACT Science
Compare your OnDataSuite Accelerated tester list to the TEA List
Once loaded, users may choose to compare their TEA released file with their current STAAR EOC Accelerated Tester Report located in OnDataSuite under the Assessment > STAAR End-of-Course > STAAR EOC & PEIMS > STAAR EOC Accelerated Testers (SAT/ACT)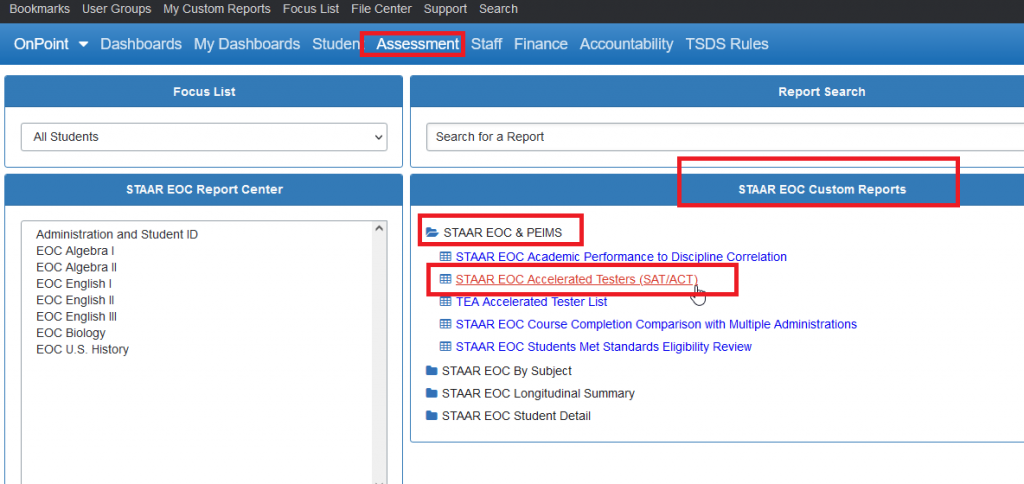 Remember that the OnDataSuite Accelerated Tester report is looking at your raw student data uploads and calculating this value whereas TEA's reported value is a returned list from a prepopulated TEAL file upload

View TEAL uploaded Accelerated Tester Files
After Accelerated Tester files have been uploaded into the TEAL file center location, users may query the table by going to the Assessment>>STAAR EOC & PEIMS>>TEA Accelerated Tester List report as shown below.
This report will display all uploaded files available.