Skyward users may use the built in FTP client to transmit files to the OndataSuite OnSync server. Below is a screen shot from the service and the variables users should enter.

Skyward users should review the knowledge base article linked below prior to setting the FTP service up.
https://kb.ondatasuite.com/knowledge-base/setting-up-winschool-to-work-with-ondatasuite/

The screen shot below is from the "OnSync" screen if your file center in OnDataSuite. After you input the two required fields as shown below a support ticket will be created. The ticket system will send you information required to set up the skyward FTP client.

The screen shot below is the Skyward FTP Client.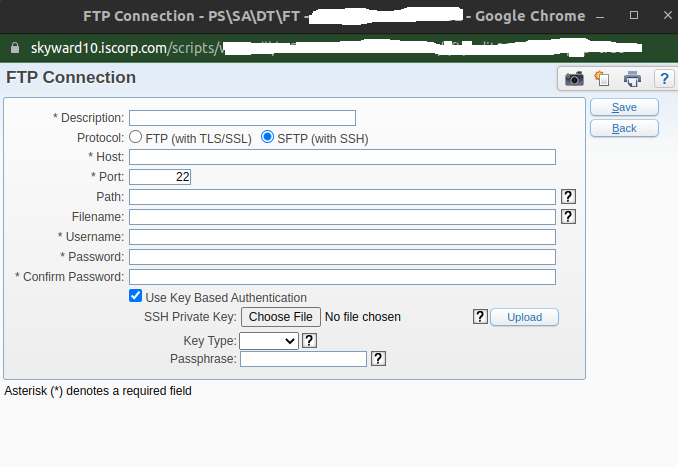 Description: OnSync
Protocol: SFTP (with SSH)
Host: The support ticket system will email you the host IP address to be input here.
Port: 22
Path: /uploads/TSDS
Filename: Leave Blank
Username: (When user request OnSync from OndataSuite file center we will email this to you.)
Password: Leave Blank
Confirm Password: Leave Blank
Use key based authentication: Checked
SSH Private key: The support ticket system will email you a file that ends with a file extension ".pem". Save the pem file somewhere final on your local computer then select that file here as the SSH key.
Key type: Leave Blank
Passphrase: Leave Blank