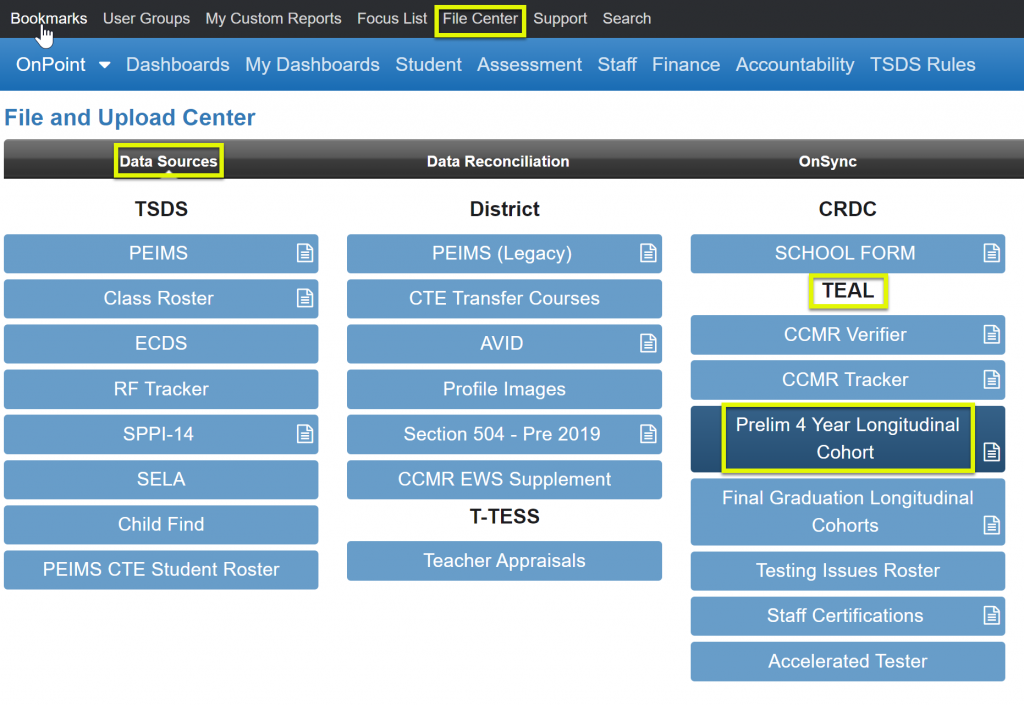 Prelim 4 Year Longitudinal Cohort – Accepted Data File Layout is an Excel format (.XLS) or (.XLSX)
Files loaded in this area are used for:
Student>Student Report Center>General>Prelim Longitudinal Cohort
Student>Student Custom Reports>Graduates / Dropouts / Cohorts>Cohort Preliminary Preview
Student Profile>Student Information>Overview>9th Grade Cohort Status
Locate and Retrieve the files from the Accountability Application via TEAL – posted first of November
Step 1. Log into the TEAL account and go to the Accountability Application – must have user access
Step 2. Select the "Updated Preliminary Four-Year Longitudinal Cohorts Lists"
Step 3. Open "Preliminary Four-Year Longitudinal Information" ( click +)
Step 4. Click the "Excel" option
Step 5. Locate the 4 "Preliminary Cohort files" at the VERY BOTTOM of the page, listed by year
Step 6. Click on the link for each of the 4 years , one at a time "Excel" option
Step 7. Click "Continue" to download
Repeat to download the next file for the subsequent year.
NOTE: Do not open the file before uploading to OnDataSuite.
Opening the file and then saving it causes some changes that do not allow it to upload properly.
Load files into OnDataSuite
In order to load files into OnDataSuite, user must have "File Upload" access.
1. Log into OnDataSuite using Chrome as your browser
2. Locate the "File Center" in the top black menu bar
3. Click the "Data Sources" tab
4. Select the blue "Prelim 4 Year Longitudinal Cohort" button under the TEAL section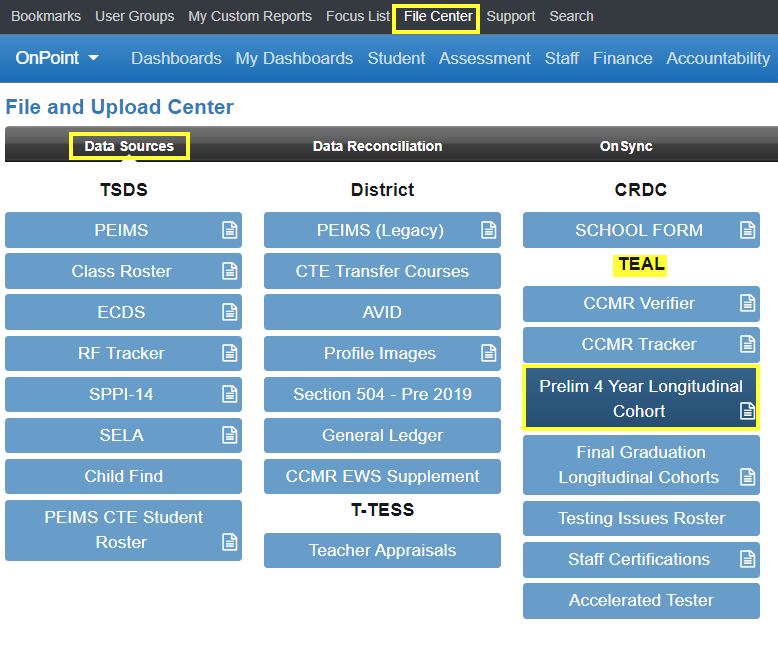 5. Click on the green upload button to upload the file (must have "File Upload" access)

6. Browse to location of file (select only 1 at a time) and 'Open'
7. Select 'Submission' drop-down box and choose 'Preliminary'
8. Select green "Start Upload" tab to continue or "Cancel Upload" or Delete the file (click the X far right side)
9. Once data has loaded, scroll down and locate the list/label for each file. Click the "Info", located at the end of the row for a loaded file to confirm upload success
Review Reports/Build Adhoc queries on the Student tab – Blue menu bar
Student Report Center

Select Prelim Longitudinal Cohort and add criteria as desired. Create Report.

Student Custom Reports

Graduates / Dropouts / Cohorts Folder

Cohort Preliminary Preview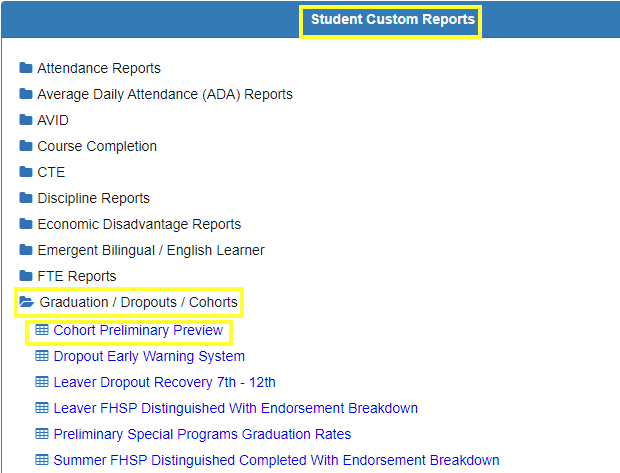 Student Profile Dashboard