TEA released the Census Block Tier Mapping for 2023 and a To The Administrator Addressed (TAA) the week of 5/19/22 regarding the updates for SCE in relation to next year funding.
Per HB3 the SCE funding is based on each student census block group submitted in the PEIMS Fall submission. A census block group number must be submitted for every educationally disadvantaged student except those students who are homeless, not enrolled, ADA-ineligible or who reside in a residential facility and whose parents live outside the district.
OnDataSuite provides an HB3 Compensatory Education – Eco Dis/Census Tiers report for funding projections and use with the Summary of Finance templates.
This reporting is based upon your Fall PEIMS submission of Census Block Group number for students.
ODS maps the Census Block Group reported in PEIMS to the respective year Census Block Tier Mapping for 20xx data from TEA (reference State Funding menu) at the time your Fall PEIMS is loaded into ODS to assign a Census Tier for ODS reporting.
TEA is required to evaluate and update the Census Block Tier Mapping annually for the following year and generally posts the updates in mid-late Spring.
Please note the following details from the TAA regarding 2022-2023 Census Block Tier mapping:
"Since this year's SCE tier assignments rely on U.S. Census decennial years 2020 data, the total number of block groups in Texas was updated from 15, 811 for previous years to 18, 638 block groups, and all individual block group assignments across the state were renumbered."
And the TEA resources provided for Census Block Group assignments for 2022-2023 will be published late July.
Based upon this information, ODS has determined it is not feasible at this time to provide a "what if" of your current year Fall PEIMS census block group reporting with the NEXT YEAR TEA Census Tier Mapping for early preview of potential impact to funding. We have submitted additional clarification questions to TEA and will finalize our decision once we receive their response.
For now, until your NEXT YEAR Fall PEIMS is reported with updated Census Block Group numbers on students the Actual NEXT YEAR Census Tier impact will not be available. ODS accepts preliminary Fall files near the start of each school year and will have the 2022-2023 Census Tier mapping ready for reporting at that time.
The current year Census Block Group to Census Tier reporting is currently linked in two areas:
Finance – Finance Custom Reports – Summary of Finance (SOF) Reports – Student Funding Detail Reports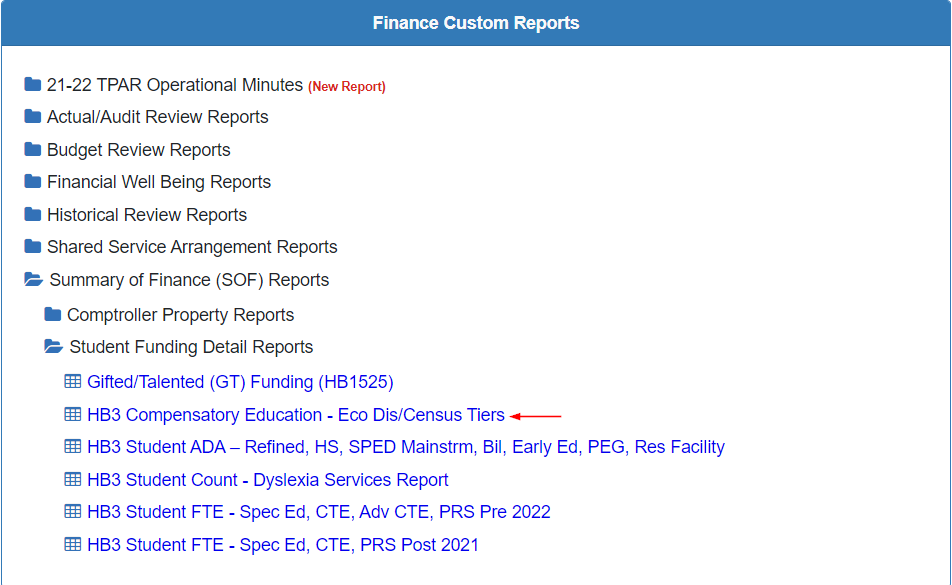 Student – Student Custom Reports – HB3 Funding