Browser Incognito Mode
In rare circumstances some browser add-ons, mostly in Google Chrome, have affected how OnDataSuite works. If a report returns no results or unusual results, try running the report in "incognito mode" in the browser.
The example below illustrates how to open a browser window in Google Chrome in incognito mode.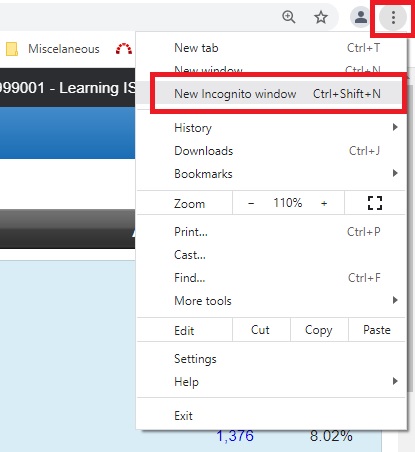 Reload Report Results – Bypass Browser Cache
In some rare occurrences web browsers will cache data causing strange or innaccurate results with OnDataSuite. When a report is loaded, most browsers check its cached data first.

A simple method to bypass this cache is to use the CTRL+SHIFT+R keyboard combination. Make sure the browser window is the current active window when using this process. Bypassing the cache will force the browser to re-run the OnDataSuite report.
More info can be found at the link below.
Refresh your web browser bypassing the browser cache.