On the List, Edit and Delete Users screen, to "Edit" the user's access, select the "Edit User" Edit button at the end of the user's row that is to be edited.

The following screen, with the user's name is displayed.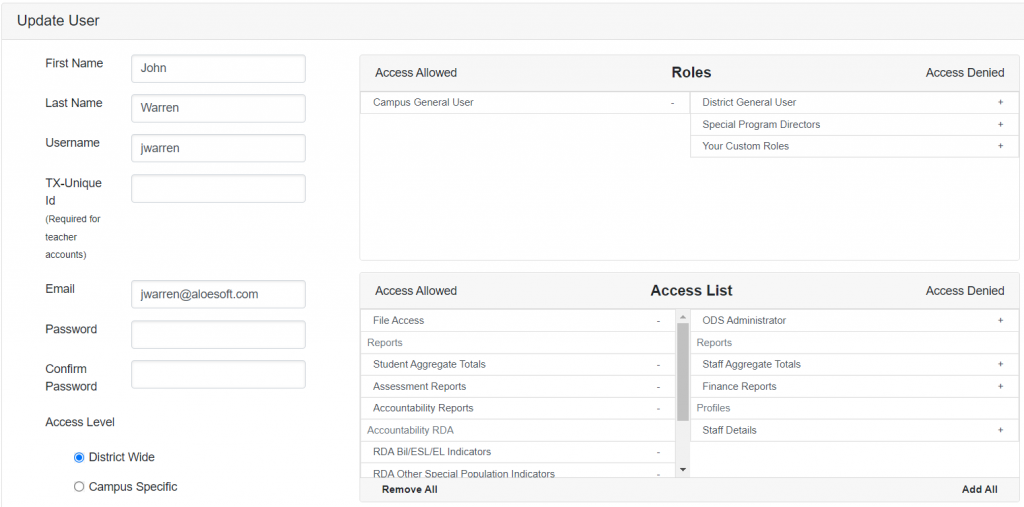 The left side can be updated to reflect:
Name changes
User Name change
Changes in email addresses (there is NOT a test to validate this entry)
Access to District or Campuses
Teacher Only- is access for a classroom teacher. This access will be dependent on the teachers "Classroom Link" information, which will connect the SSN of the teacher to the classes taught by the "teacher of record", and the students who are in this class.

PEIMS Fall, PEIMS Extended Year, Class Roster Fall, Class Roster Winter, ECDS PK, and ECDS KG all populate classroom link information

Change to an OnBoard Only account
Setting and editing HB3 goals for non admin users
Social Security Numbers for both student and staff (Default unchecked-access denied).
NOTE: Passwords can also be changed here. Passwords are NOT saved in the system, and if lost or forgotten by the user must be reset.
Minimum of 6 characters
Case Sensitive
Any combination of letters, numbers and special characters
The right side can be updated to reflect:
Roles

Can add or remove Role(s) to change Access Level, Access List, Campuses, and Restricted Areas sections

Access List

Changes to Access for admin tasks, tabs, reports, and profiles

Campuses

Can add or remove campuses by single click if "Campus Specific" chosen under Access Level

Job Title and Areas of Interest

Can add or remove according to communication desires for user roles

Restricted Areas

Can allow or deny access to Staff DOB and Payroll information (defaults to 'Denied')
Click Update User button once all changes have been made.