Users may choose to add visual dashboard items by clicking on the "Add Widget" button located in the My Dashboards side menu bar.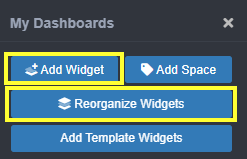 After clicking on the button Add Widget, a toolbox will appear and you will be able to select from a list of available dashboard items to add by choosing:

Category
Widget
Campus – Default is All Campuses
Year – Default is Latest Year
Once a dashboard widget has been added, click inside the widget to navigate to the associated reporting section of OnDataSuite.
Multiple widgets can be added and moved around, stretched, etc. by click and drag. Use the double sided arrow in the bottom right corner of the widget to increase/decrease size.
To make changes to an added widget (theme, campus, year options), click on the tools icon.
To remove a widget, click on the trashcan icon.
After adding many widgets, click Reorganize Widgets to clean up the My Dashboards page.