From within the CCMR EWS report users may choose to print individual student status cards. When this button is clicked, a PDF generated report of 4 student records per page will open up in a separate tab. These cards will display the same information found in the returned CCMR EWS student list that can be printed.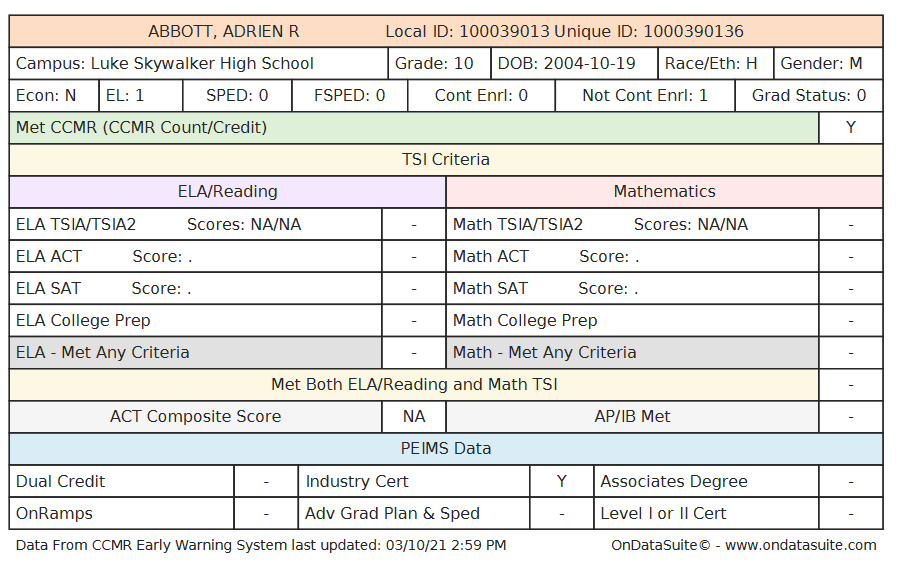 Printable Card Button Location
The printable card button can be found in the CCMR EWS report located under the Accountability tab in OnDataSuite, in the (CCMR) College, Career & Military Ready Early Warning System folder

Once you are in the CCMR EWS report screen, you will see an orange 'Printable Cards' button at the top of the screen.
NOTE: The default student list of the CCMR EWS report is for all 9 – 12 grade students. Users may want to utilize the 'show/hide filters' button to filter their CCMR EWS report before selecting to print the student cards.

Printable cards will open in a separate tab
Depending on the search criteria of the CCMR EWS report, if the list has not been filtered, this process can take a few seconds so please be patient. It is creating a PDF document of individual students that can be printed out on a plain 8.5 x 11 sheet of paper and are sized to print to the following label size if desired: Avery Printable Postcards, Inkjet, 4.25″ x 5.5″, 200 White Cards