If Getting Started verifications are good – this section is for additional reference only.
If any issues are identified verifying data available in Getting Started this step may provide additional information for your ODS Administrator as to the possible issue.
File Center/ Data Sources –
NOTE: If any of the files are missing, or data is missing from the files, the reports will still generate but have incomplete, inaccurate or no data.
Fall PEIMS – Student

Routine uploads of Student data prior to submission/resubmission dates for verification is recommended.
After resubmission, ensure final file that went to TEA is uploaded in ODS.
---
File Center > Data Sources > PEIMS – scroll to file list below the green "Click to upload" button.
Locate the current year file section and look for a Fall PEIMS file loaded. If none, contact your ODS Administrator.
Select the Info link on the current Fall file loaded (note date loaded)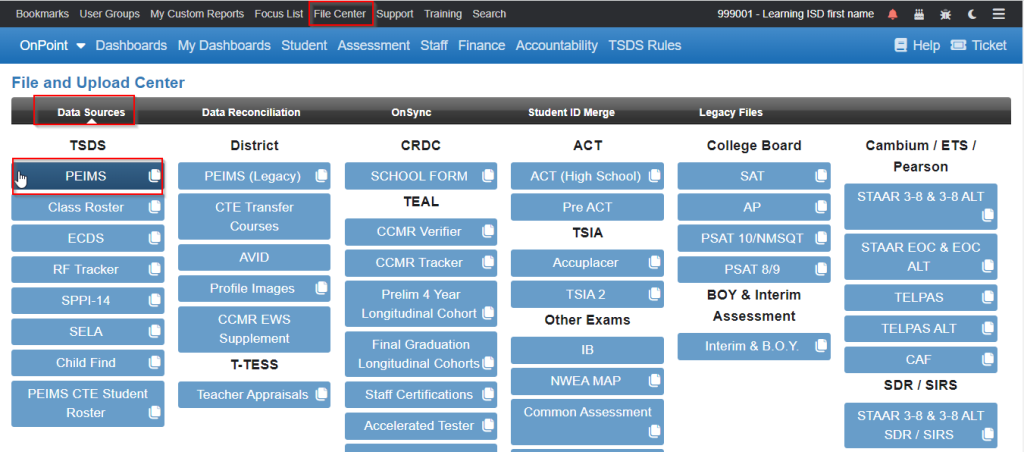 Scroll to the file list section – below the green bar "Click to upload PEIMS files"

Verify the following interchanges are loaded and the complex types indicate OK: *Note if any of the interchanges are missing or did not load OK, contact your ODS Administrator.
InterchangeEducationOrganization
InterchangeStudent
InterchangeStudentEnrollment
InterchangeStudentProgram