This area is restricted to system administrators and allows them to assign or restrict access to new users of the OnDataSuite System.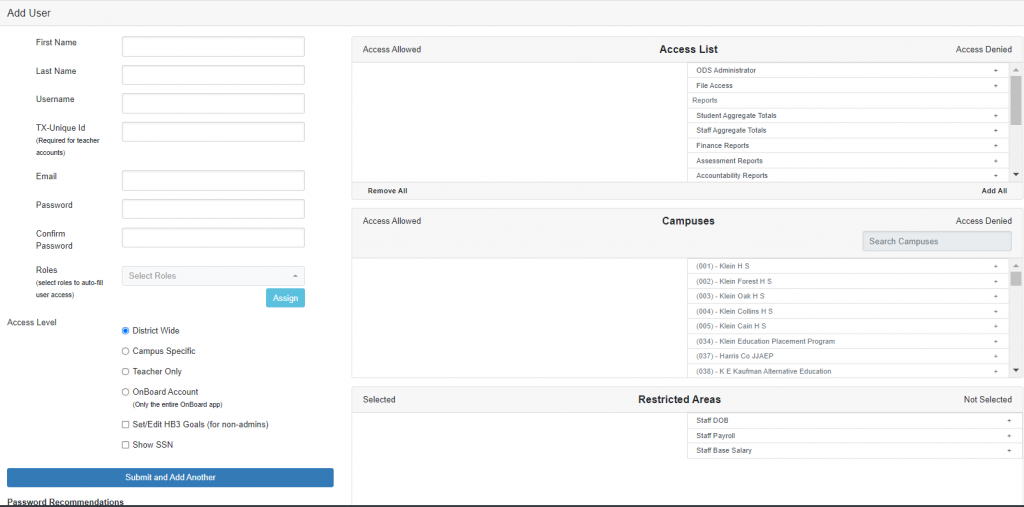 Required information for creation of new user:
First Name
Last Name
User Name (maximum 30 characters allowed with no spaces)
Email
Password/Confirm – Reference Password Recommendations on Add New User screen

Minimum 6 characters
Any combination of letters, numbers and special characters
Password is case sensitive
Roles

Assign role templates designed to auto-fill access (built on the User Access Roles screen) by using dropdown selector and clicking Assign
Note: If a user is assigned multiple roles, the highest level of access will be authorized. For example, if they are given a role of campus level user and another role of district level user, the district level user will be utilized.

Access Level Assignment

District Wide
Campus Specific
Teacher Only
OnBoard Account – option for board members access to OnBoard ONLY.
Note: LEA users gain access to OnBoard IF the user account is granted the following access:

Student Aggregate Totals
Staff Aggregate Totals
Assessment Reports

Show SSN – allow user to view Social Security Numbers
Access List – List of available Access Privileges that can be assigned by the system administrator by clicking on individual items or Add all at bottom of box. Items on the left are accessible; items on the right are not.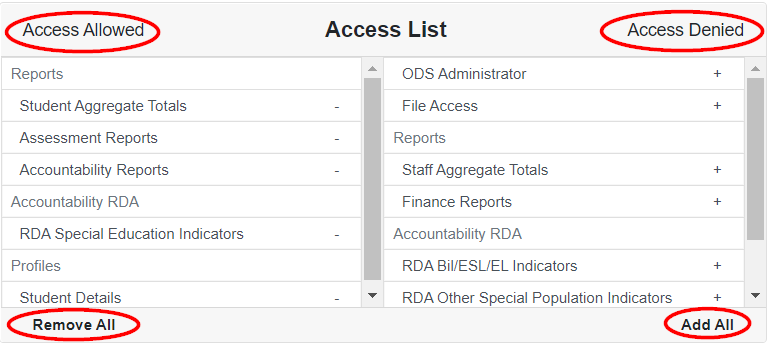 ODS Administrator – access to the Administrator menu
File Access – ability to upload files in the File Center
Reports

Student Aggregate Totals – access to Student tab for reports that only contain counts
Staff Aggregate Totals – access to Staff tab for reports that only contain counts
Finance – access to Finance tab
Assessment – access to Assessment tab
Accountability – access to Accountability tab and all reports except RDA (see next section)

Accountability RDA

RDA Bil/ESL/EL Indicators – access to Results Driven Accountability Bilingual Education / English as a Second Language summary and indicator reports
RDA Other Special Population Indicators – access to Results Driven Accountability Other Special Populations summary and indicator reports
RDA Special Education Indicators – access to Results Driven Accountability Special Education summary and indicator reports
Note: Clicking the top section "Accountability RDA" will move all 3 sections
Note: Selecting this area without selecting Reports>Accountability will only show the RDA reports

Profiles

Student Details – Reports that display student lists plus student level granular profiles
Staff Details – Reports that include staff lists plus staff level granular profiles

Campus Specific Access – only needed if Campus Specific chosen under Access Level
Restricted Areas – If access allowed:

Staff DOB –Staff Profile>Staff Overview>Demographics – Displays Date of Birth
Staff Payroll –

Staff Profile>Payroll History – Displays E0425 Payroll Amount for each account code
Staff Custom Reports>Teacher Summary Reports>Teachers Salary by Years Experience – Displays Base Salary amount on drill downs to detailed staff list

Staff Base Salary –Staff Report Center>PEIMS>Payroll Accounting – Fall – Includes Base Salary in criteria list

Job Titles – will be used for communication purposes
Areas of Interest – select to determine what areas of communication from the system is desired for the user
Click Submit and Add Another button when completed.