Bookmark functionality is found on ALL Validation/Custom/Adhoc/Custom Reports in the "Tools" drop-down or ad hoc "Report Options" pop-up box.

To create a bookmark, type in:
Name – Name the bookmarked report
Folder – Store in either the My Reports default folder, or use the dropdown to select another folder
Share With – Use the dropdown to share with others in your LEA (optional)
Click Save when completed; or Close to cancel without saving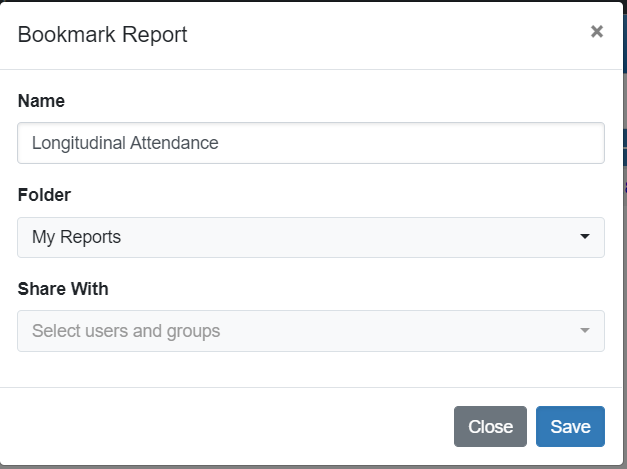 Bookmark enables the user to:
Save the report and its parameters.

NOTE: New data loads update data in the report

Share reports with other ODS users
Create folders for organization
Establish a platform of consistent reports and data analysis
Open reports from this tab
Locate reports that have been Bookmarked under the Bookmarks tab, top black menu bar.

Best Practice:
Bookmark reports that will be used repeatedly.
When creating the report to be bookmarked, filters used will be retained. This will also ensure that only the data filtered for the report will be displayed regardless of new data files loaded.
Example: An enrollment report filtered for 2018-19, will only display 2018-19, even when a data file for 2019-20 is loaded.
Leaving years unfiltered will allow any new year of data loaded to appear in the bookmarked report.
Heatmaps, graphs, and percentages will be stored when bookmarking, so if report is shared, these will appear for the shared user as well.
Use Bookmarks as a platform for sharing reports with other OnDataSuite users.