IDEA requires state agencies to identify LEAs that place students with disabilities in more restrictive settings, or discipline children from any racial or ethnic group at markedly higher rates than their peers. Therefore, the state must calculate a risk ratio for each LEA in seven racial/ethnic groups for each analysis category within areas of identification (representation), placement, and discipline.
LEAs that exceed the state established risk ratio threshold of 2.5 for any racial/ethnic group category will be assigned a PL designation of significant disproportionate (SD).
A first year designation of SD is assigned as SD Year 1, two consecutive years in the same racial/ethnic group category is assigned as SD Year 2, and three consecutive years as SD Year 3, unless reasonable progress (RP) is met.
Additional information regarding SD RP is included later in this section) Only the most recent 3 consecutive years of available data are analyzed for SD Year 3 and RP purposes.
98 Category Significant Disproportionality Report can be found under the Accountability section of OnDataSuite. Under the RDA Section, RDA Summary Reports, SPED Significant Disproportionality Folder: Significant Disproportionality Report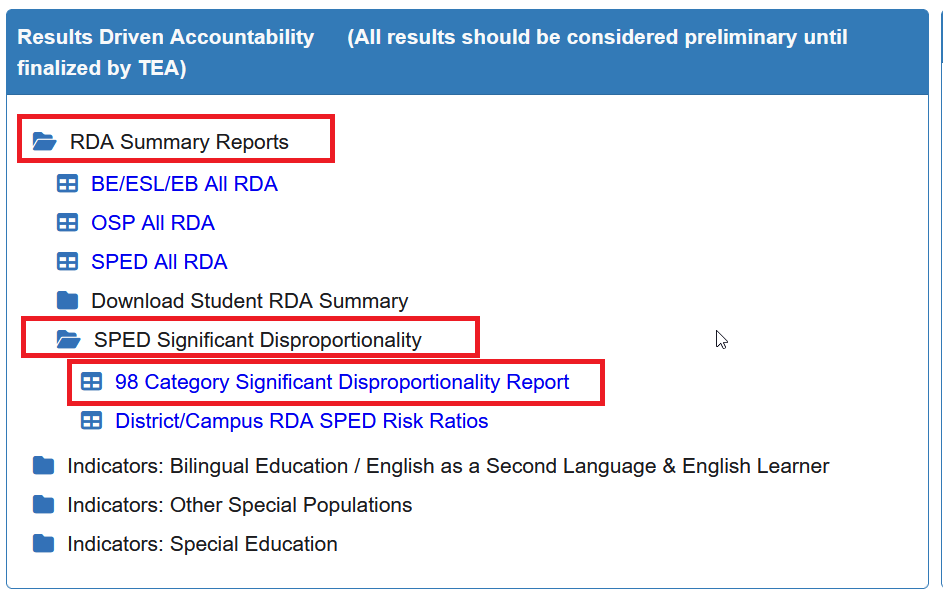 This report provides an executive overview of all of the 98 categories reported by risk ratio calculation. When a risk ratio value is clicked it will drill down to the individual reported indicator section.