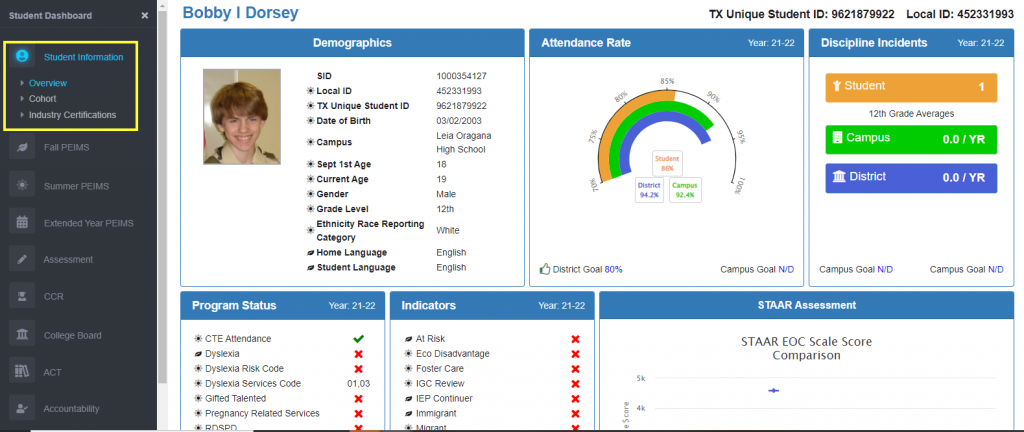 Overview
Pulls data from PEIMS (Summer/Fall), STAAR, and Prelim Longitudinal Cohort

Fall PEIMS = Leaf Icon
Summer PEIMS = Sun Icon
Cohort
Data on this tab is populated from the TEAL Prelim 4 Year Longitudinal file.
View which year a student is expected to graduate and related information.
Reason Student Left Class Key

8X- Possible Transfer = Students previously enrolled but final status never reported. No re-enrollment record or leaver record. Some students who left, returned and leave again may be counted here.
XI – Possible Enrolled = Students who have reached their graduate year but are reported as enrolled on a PEIMS Snapshot (rather than a PEIMS leaver record).
XX- Possible Drop Out = Students submitted in Fall PEIMS with an as of status C, G or E and students reported in Summer PEIMS with as of status "I"
Industry Certifications
Displays post secondary certification licensures starting with the 2019-2020 school year including the submission period (fall or summer)

Note: Both fall snapshot and leavers' certifications will be denoted as Fall Submission. Review the Leaver & Finalized Graduation Status tab for confirmation of whether or not a student is a leaver.
Note: Post Secondary Certification Licensure Result element started reporting 2022-2023.
Note: Certifications for 2017-2018 and 2018-2019 can be found on the Leaver & Finalized Graduation Status tab.