Tools view from Custom reports
Available on all one click reports after generating.
Located at the top right of each report.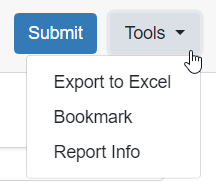 Bookmark – Saves the report to the bookmarks menu for later review.  Also allows the bookmarked report to be shared with other users.
NOTE: To find a complete listing of the bookmarked reports, select "Bookmarks" from the
black menu bar. More info on the Bookmarks tab in Bookmarks section.