Data Source (s)
Data for the discipline reports comes from Summer PEIMS TSDS interchange files extracted from the Student Information System (SIS). The files are then uploaded into the "File Center" of OnDataSuite/OnPar by a designated staff.
To determine how current the Summer PEIMS discipline data is, go to File Center/ "Data Sources"/ TSDS PEIMS tab: Scroll down to view the data loaded.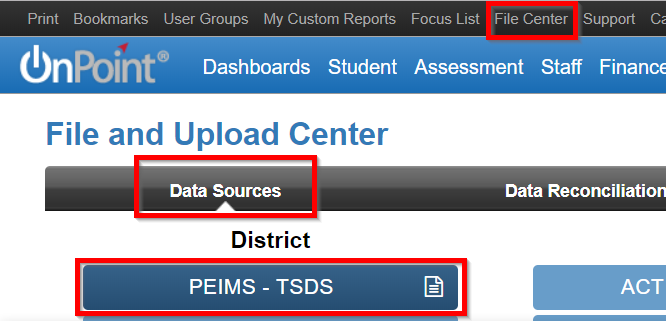 Status = PRELIMINARY file means that the data is NOT the "FINAL" file that will be sent to TEA and therefore, can still be changed!
The number of "Weeks" refers to the reporting cycle for which data has been loaded. Example, at any time during the 5th 6 weeks period, a file can be loaded and marked as Prelim: 5 weeks
Click on the file to open and ensure Discipline interchange/complex types have "OK", meaning that the discipline portions (data) of this Summer PEIMS file are loaded.