Location: Hamburger menu>Administrator>Goals
Only personnel with administrative access or users that have been granted HB3 Non-Admin privilege's will be allowed to make changes to the board goal settings.
If you are logged in to OnDataSuite (ODS) and you click on the three lines in the top right hand corner (hamburger menu) as in the example below and you do not see the 'Administrator' option you will need to work with your local ODS system administrator to be given access to the system.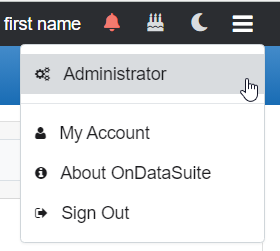 From the Administrator menu select 'Goals' from the Administrative Tools menu and then either select the sub-menu titled 'HB3 Goal Setting' OR click on the HB3 Goal Setting 'view' button from the listed items on the screen.

What if I do not have administrative access?
If you do not currently have administrative access to OnDataSuite you will need to contact your local district level OnDataSuite administrator and ask that they edit your account permissions within OnDataSuite to administrator. This cannot be done at the regional level or at by OnDataSuite.
If you do not know who your administrator is, you will need to review the list of your local LEA OnDataSuite administrations by clicking on the hamburger menu in the right hand corner, then select 'my account' , then click on the the Administrator List link located in the left side Administrative Tools menu