This Knowledge Base (KB) article is intended to provide a broad overview of the HB3 Board Goals section of your OnDataSuite system. For detailed instructions please review the KB articles listed at the bottom of this page OR use the keyword 'HB3 BG Training' in the OnDataSuite helpdesk search bar.
Summary: HB3 Goal Settings addresses the HB3 Board Goal requirements in TEC, Sections 11.185 and 11.186.
The three required areas to set goals in are:

Early childhood literacy proficiency – aligned to 3rd grade STAAR results
Early childhood mathematics proficiency – aligned to 3rd grade STAAR results
College, career, and military readiness (CCMR) – aligned to graduates that meet readiness requirements
Usage: This report provides a tool to enter the 5 year HB3 board goals across the designated student groups in the three required areas, save the goals and publish the goals into OnBoard for board member views.
Goals by student group, sub population and year is to be set for A-F Targets Meets or Above Standard as published on page 45 of TEA 2019 Accountability Manual.
Where are the HB3 Board Goals Located
HB3 board goals are visible under the OnBoard section of OnDataSuite, and will display goals that have been set by district assigned administrators in the OnPoint administrative area of OnDataSuite.

Setting District/Campus Goals
Setting District Goals as an ODS Administrator: By Default, all users with "ODS Administrator" privileges can change and set Board Goals in the OnPoint section of OnDataSuite.
Setting District Goals as a Non-ODS Administrator: Non administrators of the OnDataSuite system can be given the ability to set board goals by checking the 'Set/Edit HB3 Goals (for non-admins)' checkbox. This change will have to be made by a district administrator under the user privilege's settings. (See image below)
Setting Campus Specific Goals : Campus specific goals can be set by users without "ODS Administrator" privileges only if the "Set/Edit HB3 Goals (for non-admins) check box has been selected. This is generally reserved for high school level goal setting.
Data Source(s):
HB3 Target Goal Calculation Explained
When a final year target goal is entered for the last year, the prior 4 year target goals will auto calculate and equally distribute the annual incremental goal.

The formula used to determine the incremental targets for each year is as follows:

The minimum incremental value needed to achieve final year target = (2024 target – 2019 target) / 5
Add minimum incremental value to prior year target to determine next year target. (minimum incremental value +2019 target = 2020 target; minimum incremental value + 2020 target = 2021 target, etc.)

Individual subject, year and student group goal may be manually entered to overwrite any auto calculation.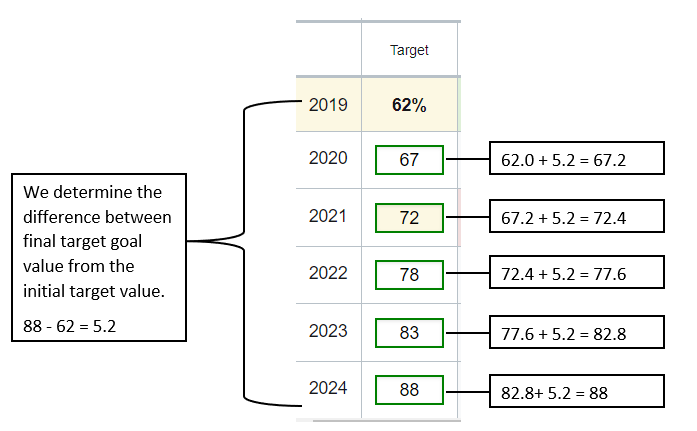 Features:
HB3 Board Goals can only be set in the OnPoint Administrative section of your OnDataSuite system. The system provides allows administrative goal setting teams the option of working on, refining, and saving goals without pushing the final goals out to the OnBoard HB3 page using the 'Save Goals' button.
The SET BOARD Goals button will push out all values entered in all fields from both the district and campus board goal setting. This is meant to be the final step in the process but even if board goals have been set, users still have the option of updating and then resetting their board goals.
Save Goals: Click to save the calculated or entered goals on the HB3 Goal Settings page. This allows work in progress to be set or updated in the HB3 Goal Setting page only.
Set Board Goals: Click to set or update the OnBoard HB3 tab and widget for board views. A message is displayed "Board Goals Set on:…" when the Set Board Goals is clicked.
Set Campus Goals: Ability to set goals by campus added 6/1/21
Resources:
For instructions on how to set HB3 board goals please visit the following training module:
https://manuals.ondatasuite.com/index.php/2020/10/10/hb3-board-goals-training