The Staff Report Center area allows for ad hoc reporting on PEIMS and other categories' data elements.
The categories are divided into TEA general and PEIMS reporting and often contain elements in other categories for cross-referencing.
The reports are built using criteria fields for the y-axis (vertical) and years of data loaded in the file center for the x-axis (horizontal) with aggregate totals for each criteria selected (summary level).  The totals also allow drill-down to the detailed staff lists.
For information about the categories see the Data Source Information section on right hand side.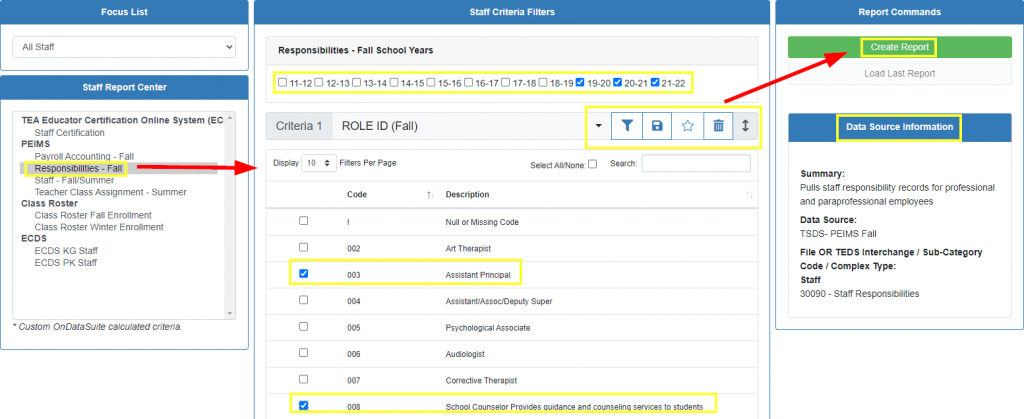 To create an ad-hoc report (navigate left to right):
Staff Report Center (left)
Staff Criteria Filters (middle)
Select appropriate Years
Add Criteria using drop down box(es)

To change the criteria selection, use the drop down box and choose new element
To rearrange criteria, use the double arrows to drag and drop
To delete criteria, click the trash can

Select Filter icon to choose specific codes (not filtering selects all codes)

Use Display drop down box to view more codes at one time on the screen
Individually click on each code's box
Use Select All/None to auto check all fields or deselect all fields
Use search to find specific codes for selection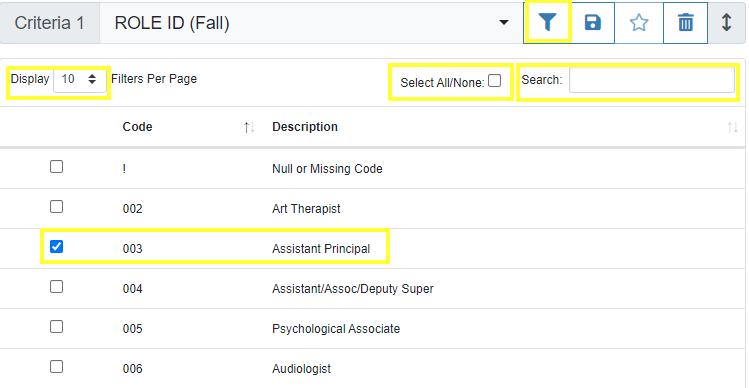 Save Filters to use in future queries

Click on Disk icon to save the filters selected
Name the filter set and click Save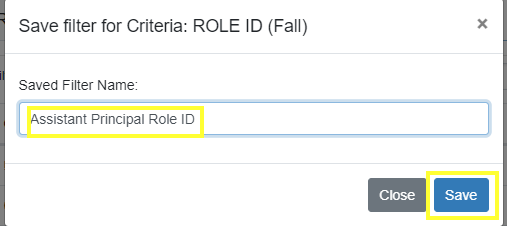 Use Saved Filters

Click the Star if highlighted to apply a saved filter to a criterion

Click Load Saved Filter to apply the filters
Click Delete Saved Filter to remove the filter set

Report Commands (right)
Click green Create Report button to run results

Example Ad Hoc Report
Click on aggregate totals (including grand totals) to drill down to detailed staff list view

Use Load Last Report blue button to display previously created report and make updates