Utilize the Staff Report Center to create your own Ad-Hoc reports.
Example: Use the Report Center to review full staff Payroll Distributions
Payroll Accounting-(Fall)
Payroll Fall Accounting – School Years (if you do not select it pulls all years )
Verify you have Staff Payroll Amount access for full access to this report (Getting Started)
Sample criteria: Selected last year and current year to be able to drill down into detail list for comparisons.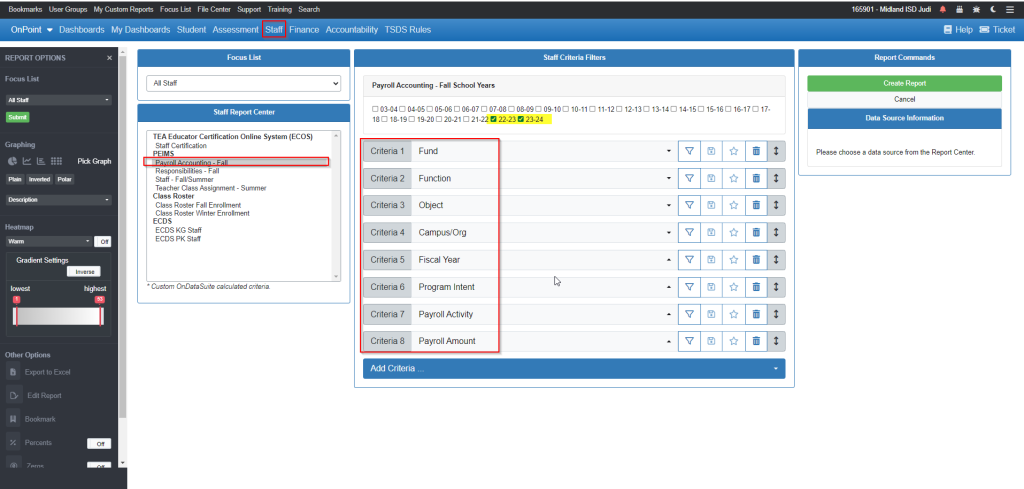 From the results, scroll to end of report for Total rows and drill into the respective year:
From the drilldown roster, use the Column Options: (upper left of the roster)
Note the highlights below of recommended edits to the default roster listing: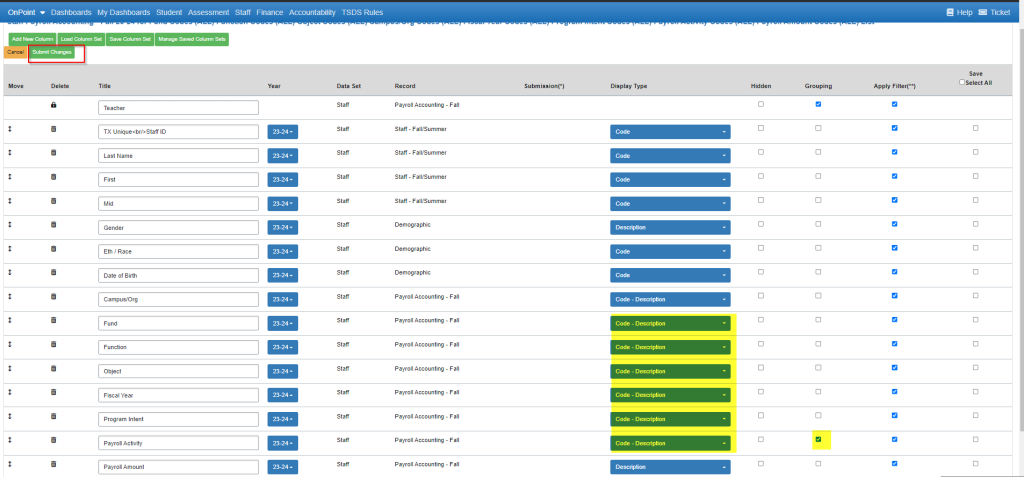 Submit Changes and from the report, use Tools – Export to Excel and then you can sort, filter, etc. as needed to verify all staff payroll reporting. .
Example: Verify and compare to TSDS Staff Reports – PDM1-110-001 – PDM1-110-007
Payroll Information by Special Program Intent Code PIC 21-PIC 43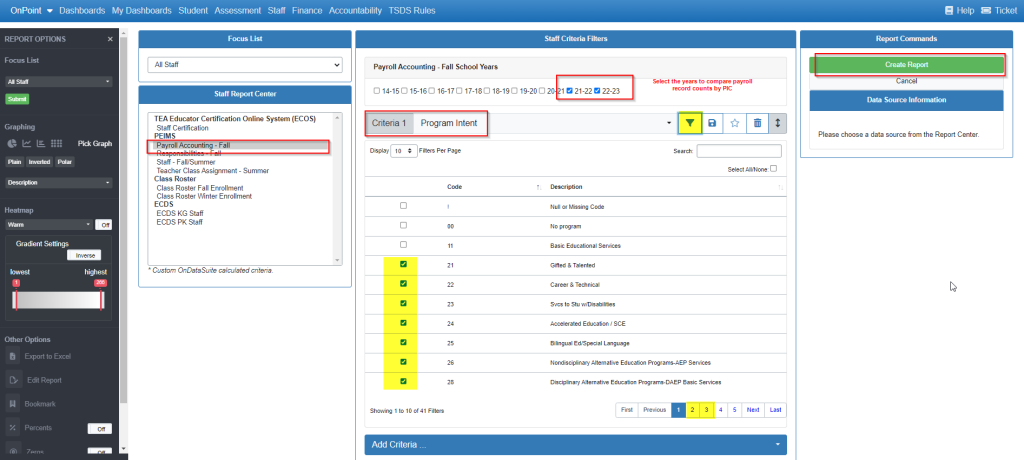 ---
The Staff Report Center is a great resource to compare year to year updates when there are changes in the FASRG or other areas to monitor and verify..
Staff FTES are a crucial calculation based upon various elements reported.
Verify the Staff Percent of Day Employed and Number of Days Employed to ensure FTE calculations are accurate: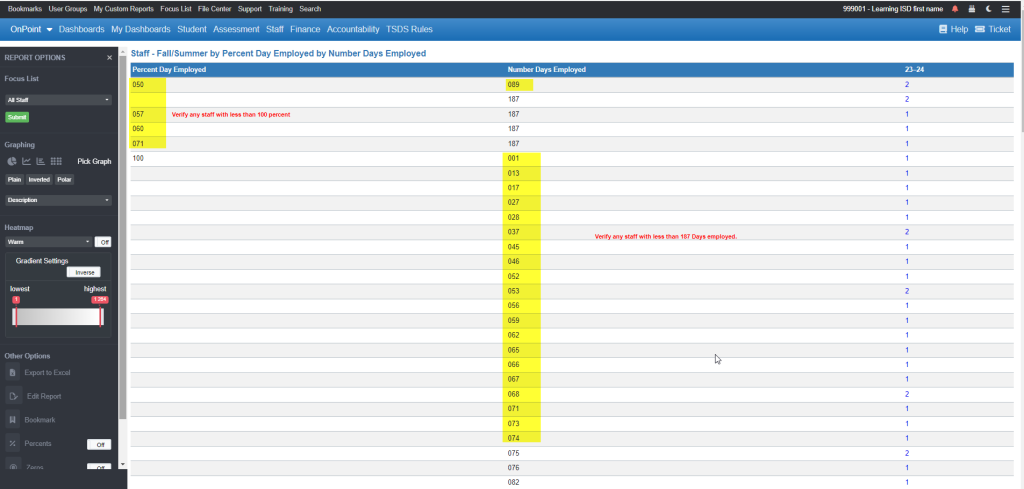 ---
2. Verify Highest Degree on Responsibility Records:
Responsibilities – (count of records)

Criteria 1 = "Role ID"
Criteria 2 = "Highest Degree Level" filter = "(0)- No Bachelor's degree or higher"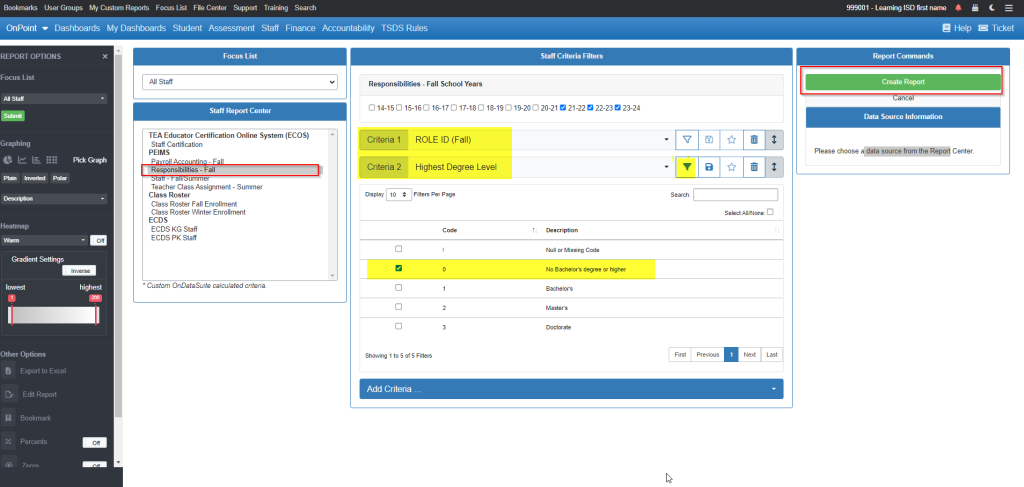 ---
3. Verify any Staff with Auxiliary Role IDs that are also reporting Responsibility Role – is that valid. Typically a staff with an Auxiliary Role ID does not also have a Responsibility Role ID.
Criteria 1 – Auxiliary Role ID (filter on Select All)
Criteria 2 – Role ID (Fall)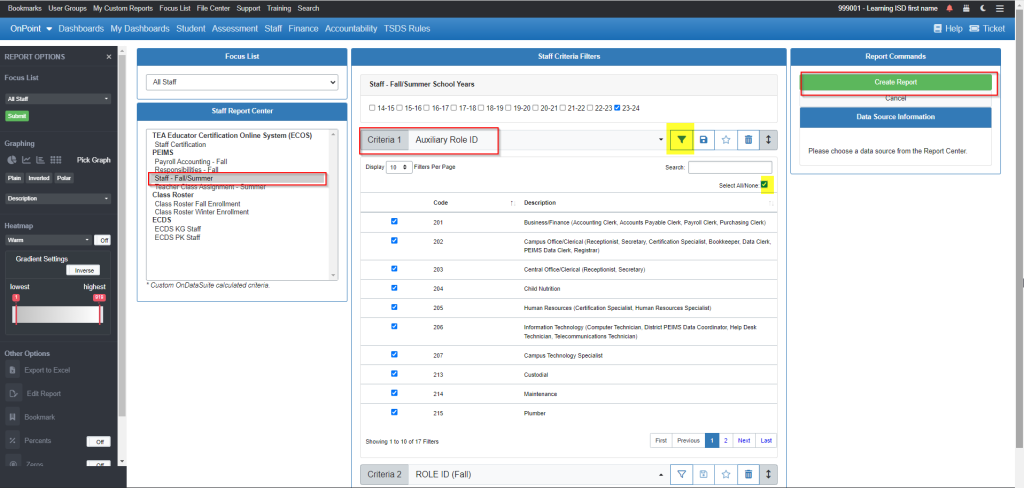 Drill into the total and verify each staff is accurately reporting an Auxiliary Role ID AND a Responsibility Role ID.
---
Explore Report Options Menu: 
Any Report criteria selected that is calculated by ODS and not explicitly reported in PEIMS, will display a Data Source Information window defining the calculated criteria you may include as criteria in report: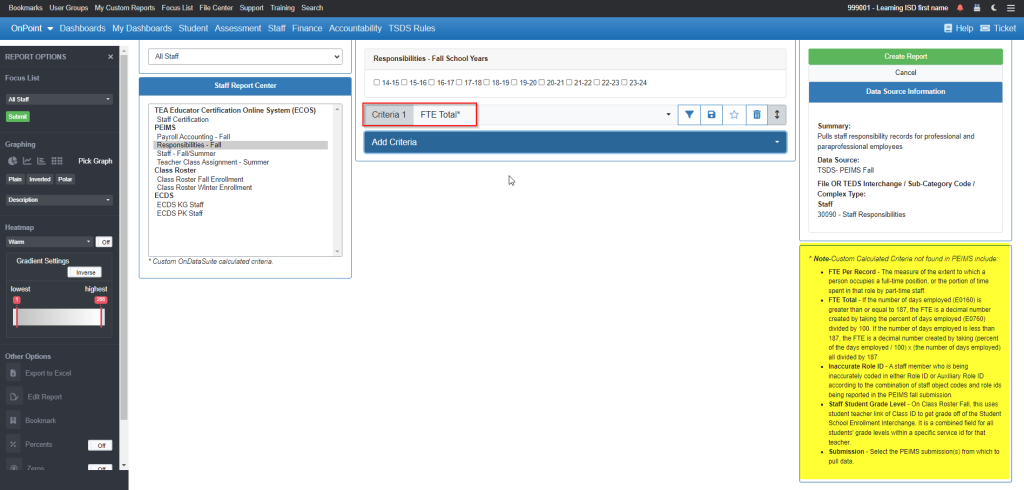 Italicized Criteria Options – Note-Custom Calculated Criteria not found in PEIMS include:
FTE Per Record – The measure of the extent to which a person occupies a full-time position, or the portion of time spent in that role by part-time staff.
FTE Total – If the number of days employed (E0160) is greater than or equal to 187, the FTE is a decimal number created by taking the percent of days employed (E0760) divided by 100. If the number of days employed is less than 187, the FTE is a decimal number created by taking (percent of the days employed / 100) x (the number of days employed) all divided by 187.
Inaccurate Role ID – A staff member who is being inaccurately coded in either Role ID or Auxiliary Role ID according to the combination of staff object codes and role ids being reported in the PEIMS fall submission.
Staff Student Grade Level – On Class Roster Fall, this uses student teacher link of Class ID to get grade off of the Student School Enrollment Interchange. It is a combined field for all students' grade levels within a specific service id for that teacher.
Submission – Select the PEIMS submission(s) from which to pull data.