Reference the KB article Staff Profile for details what information is available and how to access.
Two primary methods to view an individual staff profile:
Locate staff from a staff list or by using "Search" menu from top black menu bar.
Clicking on the staff id or "View Profile" located on a Staff List.
Staff Overview was redesigned and now includes a Print option (bottom left menu) that is similar to the TSDS Staff Profile reports of all Staff Fall data as reported on one page.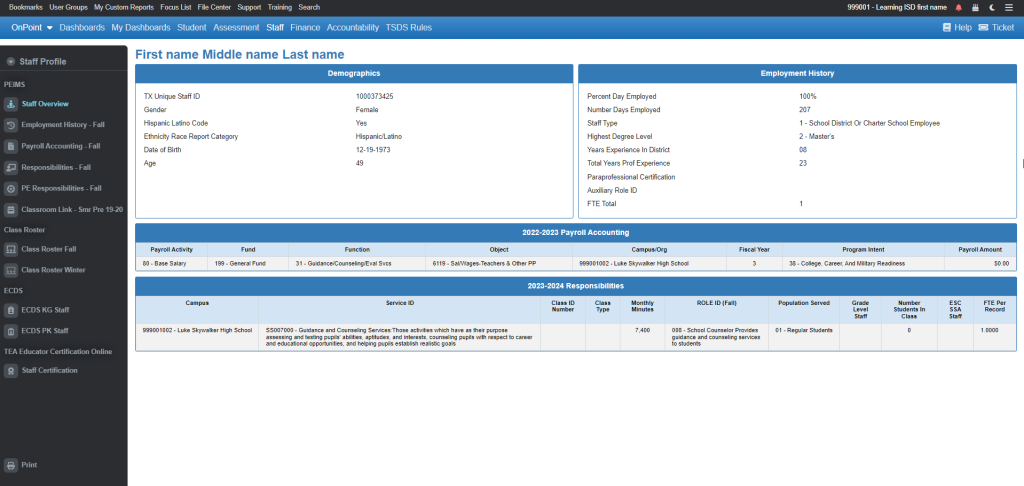 Employment History-Fall updates include additional employment elements, such as Staff Type, Highest Degree, Total Prof Years Experience, etc.

Payroll Accounting – Fall – no changes. Reminder – to view the Payroll Amount, user must have Restricted Access to Staff Payroll Amount.

Responsibilities – Fall updates include Grade Level Staff indicator.

New views added:
PE Responsibilities – Fall
Specifically designed for displaying the additional weekly number days taught and number minutes taught elements for teachers who should have PE service IDs
Class Roster – Fall
Class Roster Winter
ECDS KG Staff
ECDS PK Staff
Staff Certification

---
Printing Staff Profiles – "New" functionality similar to the TSDS PDM1-111-001 report.