Every Custom Report has a Tools menu button (upper right on report). There are 3 standard options on all Tools menus:
Report Info – Best Practice Recommendation is to review the Report Info on every report.

Report Location – breadcrumbs where to access the report (updates are in progress to add this information to all report notes)
Summary – report purpose
Usage – recommended ways to use the report
Data Sources
Calculations – defines the report calculations and provides definitions if necessary
Features – summarizes special filters and functionality built into the report, such as drilldowns, etc.
Resources – provides references if applicable to report purpose and calculations
Finance Custom Reports
The yellow highlights on the Finance Custom Reports menu below represent all reports that utilize the MidYear PEIMS submission in part or total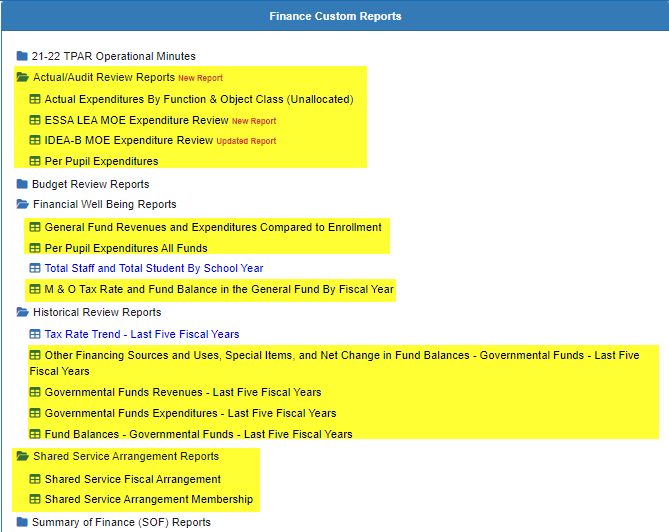 NOTE: Actual Financial PEIMS data is reported to TEA the year "after" it occurs in the MidYear PEIMS collection, when reviewing Custom Reports in OnPoint, the year will be associated with the year the data represents and not the year it is reported.
Example: 2022-23 Mid Year PEIMS Reporting will be listed as 2021-2022 (Actual Finance) on all associated Custom Report.
---
Additional note – the OnDataSuite Knowledge Base available at https://kb.ondatasuite.com/ or displayed when ODS Support Tickets are submitted, may be searched for this same information as well.
---