FALL DASHBOARD – Available at District and/or Campus levels. Provides a disaggregated count of students/staff in various groupings.
Fall Dashboard – Reference KB for additional features
Year drop down selector
Programs of Study (+)
GT Programs
Admin – list
NOTE: Use live links to drill down to the set of students creating the count.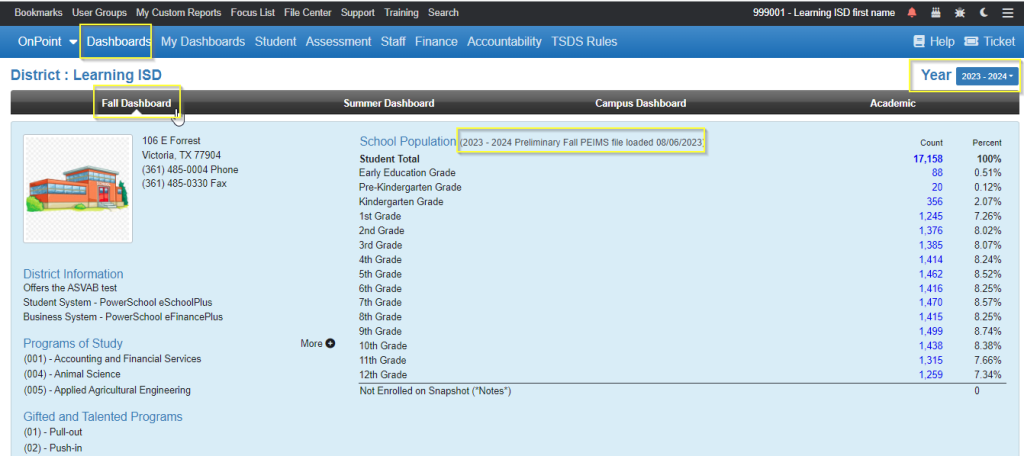 Note the date of the latest Fall PEIMS file loaded on the Dashboard
Prior to snapshot – count will represent student/staff coding as of the day the file was created/loaded.
After snapshot day (Last Friday in October), the count will represent student/staff coding on snapshot.
Scroll the Dashboard to review data by categories.

My Accounts – User Settings Option to view which PEIMS codes create the count of students
Click on the links to provide a list of students. (Student Detail Access required)
Best Practice: Use a "list" of student group to create a Focus List.
This will enable only the students in this group to be pulled for selected reports.
Review counts and percents from prior year(s), by using the "Year" drop down.
(Top right of screen)

CAMPUS Dashboards
Campus Org – Displays Campus Enrollment Type and NSLP
Campus Student – See Fall Columns for each campus
Click on the campus to see each individually.
Click on counts/% to drill down to list of students.